Journalist Katy Turs new book, Unbelievable, covers the ever-deepening weirdness that developed between Donald Trump and her during the campaign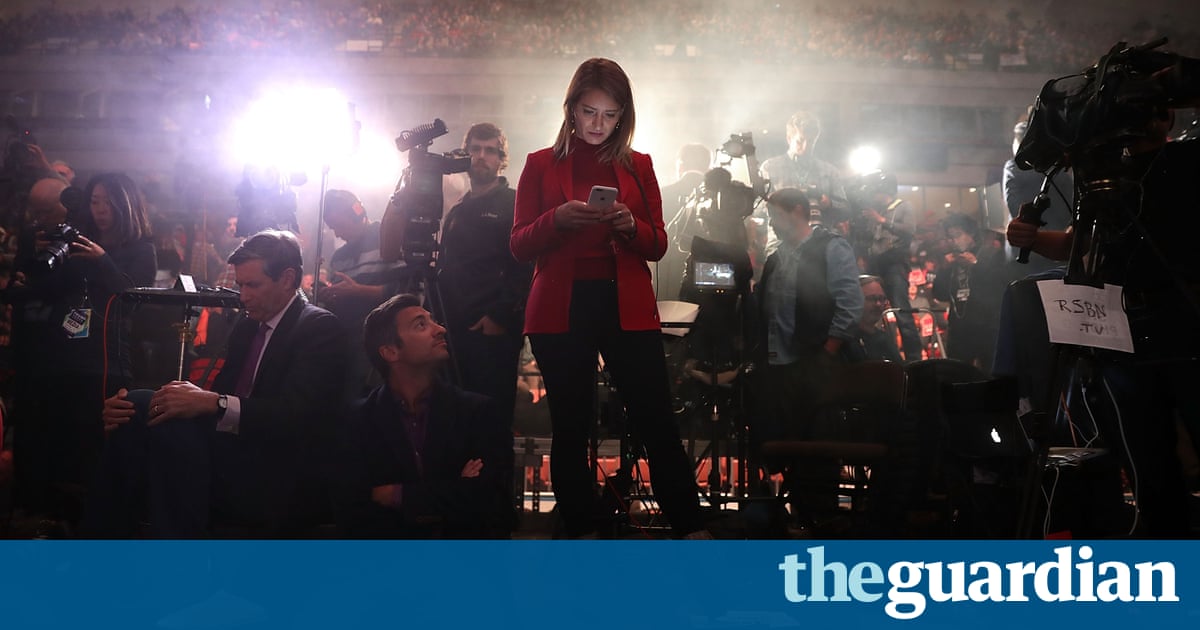 July, 2015
I wake up to sirens at 7.45am.
Damn New York City.
Not sirens. My alarm. I reach for the snooze button just as reality hits: my Trump interview is this afternoon. I should get some coffee and read the papers before I go in. I scroll through my emails to see whats happened overnight. And there it is: a note from Hope Hicks [Trumps press secretary]. Shes pushing up our interview, and not just a smidge. This is a four-hour adjustment, a swing from 2pm to 10am.
Motherfucking fuck, I yell, jumping out of bed. I really need to start waking up earlier.
I also need to stop going to bed at 2am. But right now I need to wash my hair, throw on a dress, and paint my face.
I hail a cab.
Trump Tower is a black, mirrored skyscraper that takes up half a block. The main entrance is campy, with an old-fashioned clock and white-gloved doormen in tails and gold-trimmed hats. More Disney than Dakota.
Hope Hicks appears, smiles, and gives us a two-minute warning. Trump is on his way.
Dont look nervous.
He lives and works upstairs, so I imagine he must have the timing of his golden elevator worked out to the second. At 10am, right on time, he emerges into the lobby alongside a tall, white-haired man in a black suit. He doesnt say hello, exactly, but sort of sings it. He smiles and squints, and the sound seems to slip out the side of his face. His voice is lilting, almost cartoonish. We shake hands and I go to take my seat.
Trump looks confused.
Dont you want a picture? he asks me, as if he doesnt know why I havent suggested it yet. Come here, Katy.
OK, this is awkward. I dont want a photo. I know that our every move is beaming live into 30 Rockefeller Center, NBC News headquarters, and that my bosses, watching in real time, will cringe to see me smiling like a fan girl next to my interview subject.
Im not sure its a good idea to tell him no but at the same time why in the world would he think I want a photo? Im not a fan. Im a journalist. This is a network news interview.
So I say yes. Maybe this is a mind game. Maybe Trump is trying to charm me, knock me off balance, confuse the point of this interview. Or maybe he just figures hes a bigshot celebrity and pre-interview photos are routine.
The shutter clicks and captures my bewildered grin.
We sit down. The camera crew is lining up the shot and double-checking the lighting. Theyre almost ready when Trump calls for a time-out.
Does that look good, Keith? he says to his bodyguard, the man in the dark suit with the white hair. Keith is looking into the monitor checking Trumps shot.
Hes my stylist slash beauty consultant, he jokes.
I had heard a rumor that Trump was finicky about his appearance. In one version of the story, he hired a makeup artist away from a TV network because she was wearing gloves as she worked. Trump thought she must be hygienic. In another, that same makeup artist always told him to request gold gels from the camera crew. Thin pieces of gold-tinted plastic placed over the lights that she said would give him a rich glow.
Keith says his boss looks good, but Trump wants to check for himself. Let me just see. Spin it, he says.
He scrutinizes his face on the screen and decides its OK. The crew spins the monitor back around. Trump looks back at me.
You know my whole life has been a win, you understand that, he says.
And so the interview begins.
OK.
My first question, I say. Why are we here in New York? Why arent we out on the campaign trail?
Oh, Ive been to Iowa many times, he says. Ive been to New Hampshire many, many times. Love the people there. And weve had tremendous success. Weve had tremendous crowds. Nobody gets as many standing ovations, and I spent a lot of time out. I was in South Carolina recently and were all over. Im going to, this weekend Ill be with Clint Eastwood in California, tremendous group of people
As a journalist, my job is to listen and probe, listen and probe.
As a human being, Im struggling to identify every ingredient in his word salad. Is that a tomato or a radish?
After my top five questions are in, I ask five more, and then five more.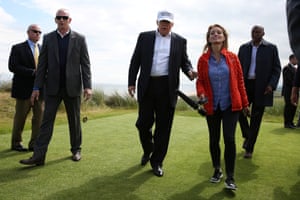 Read more: https://www.theguardian.com/us-news/2017/oct/11/donald-trump-katy-tur-election-book-extract