Officials have set Wednesday deadline to evacuate Oceti Sakowin, a key encampment in the fight against the Dakota Access pipeline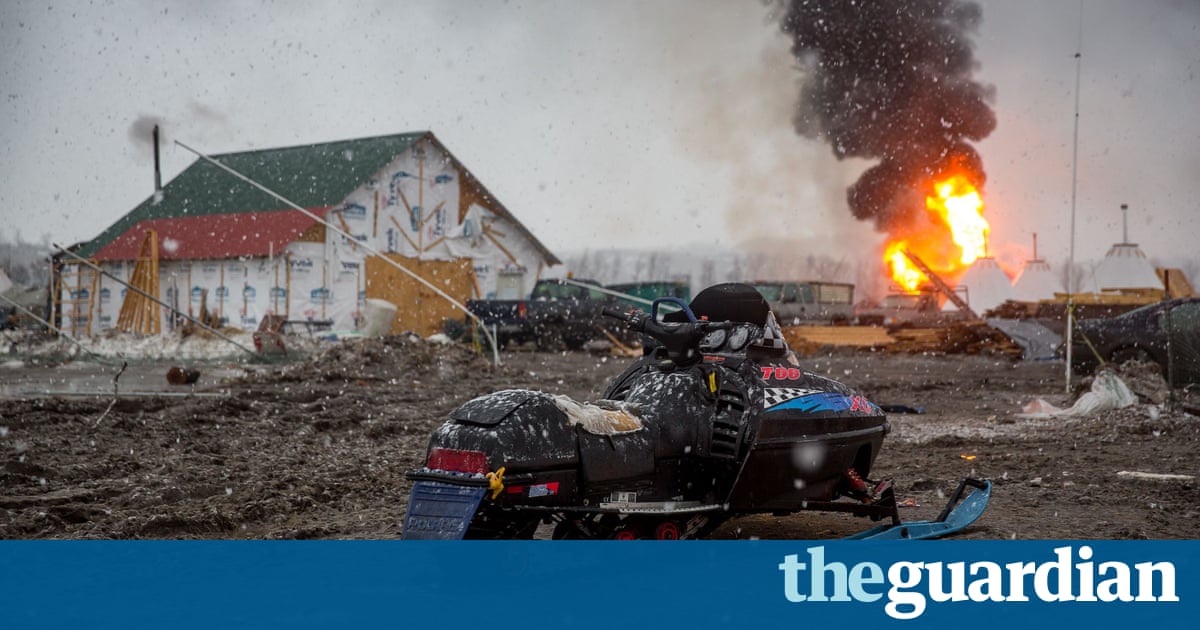 Police surrounded the Standing Rock camps to evict the remaining Native American activists fighting the Dakota Access pipeline on Wednesday, setting the stage for a tense showdown with a militarized law enforcement operation.
North Dakota officials have set a deadline of 2pm local time to evacuate Oceti Sakowin, the central encampment in Cannon Ball where indigenous activists from across the globe have been demonstrating against the oil pipeline since last summer.
In the final hours, some holdouts set fire to a structure at the camp where thousands have built tipis, yurts, huts and massive shelters in recent months.
Some people are trying to do final cleanup, and there are still people there who are going to remain until they are removed, said Stephanie Big Eagle, a member of the Yankton Sioux tribe, who returned to Standing Rock earlier this month. Im worried for their safety, we all are. Were praying for them.
After leaving Oceti, she and others gathered on Wednesday morning at Sacred Stone, a separate anti-pipeline camp nearby.
Law enforcement officers set up extensive blockades and checkpoints in the area, following orders from the North Dakota governor, Doug Burgum, and US army corps of engineers officials that the camp be evacuated. Dave Archambault II, chairman of the Standing Rock Sioux tribe, which is leading the courtroom fight to block the pipeline, has also supported the evacuation effort, sparking an intense backlash from other activists.
State and tribal officials have claimed that they fear flooding could endanger campers and possibly contaminate the nearby Missouri river, though the activists, who call themselves water protectors, have argued that the government is trying to quash the huge movement against the $3.7bn oil pipeline.
Just because were getting removed from that area doesnt mean its over, said Big Eagle. We just have to continue to work together as a whole for this common cause, which is protection of Mother Earth.
The eviction comes less than a month after Donald Trump ordered an expedited approval of the pipeline, reversing the Obama administrations last-minute decision to halt the project. The Standing Rock tribe and its supporters have long argued that the pipeline, which is routed upstream of the reservation, threatens its water supply and sacred sites.
Sioux leaders argue that indigenous people have treaty rights to the land where the Oceti camp is located on property that the army corps now controls.
Law enforcement which has faced widespread criticism for using excessive force during demonstrations has begun aggressively prosecuting and investigating the remaining indigenous activists since Trumps inauguration.

Im praying for no loss of life. Im praying that no one gets hurt, said Floris White Bull, a 33-year-old Standing Rock member who stayed at her home just south of the camps on Wednesday. I know for a fact that every single person thats going to be forcibly removed is going to be traumatized and suffer distress. Thats not easy.
Ernesto Burbank, a member of the Din tribe in Arizona, who has been at the camps on and off since last August, said many were surprised to see that someone had set a structure on fire. He said he didnt support people setting fires on sacred grounds, but understood peoples emotions were high.
These are individual people dealing with PTSD, dealing with sleep deprivation people constantly being intimidated by officers, he said by phone from Sacred Stone on Wednesday morning. They are losing a place that is home. They dont know how else to channel their frustration.
Burbank, 35, said he hoped the momentum of Standing Rock, which attracted an unprecedented gathering of indigenous tribes, would not be lost.
We can defeat the black snake, he said, referencing the nickname for the pipeline that many use at Standing Rock. It may not be today or tomorrow, but we can.
Read more: https://www.theguardian.com/us-news/2017/feb/22/dakota-access-pipeline-standing-rock-evacuation-police